Most people who think about curb appeal associate it with homes and residential buildings. What they may not know is that this concept is also relevant to commercial buildings. The curb appeal of your commercial building can influence the feeling that potential customers get about your company and brand.
According to research, a business with an attractive exterior attracts more clients than one with an unpleasant façade. So, if you want to increase your sales and double your revenue, one way could be to consider upgrading your storefront.
Does Curb Appeal Matter for Commercial Buildings?
Curb appeal matters for commercial buildings, especially in creating that first impression. By improving the appearance of your property, you can benefit in the following ways:
1. Boosted Trust & Credibility
When potential customers arrive at your establishment, you want them to feel confident in your business. Once clients realize that you take pride in your property, they will be more inclined to stop and learn more about what you have to offer.
2. Better Internet Searches
63 percent of people looking to buy property start their search online. Customers interested in your building will only be attracted to it if they can find good images in the search results. This can largely be guaranteed by a striking exterior.
3. Increased Property Value
All things being equal, a commercial property with visible improvements will drive more interest and sell faster than one without. Moreover, a building that has an exceptional appearance is more likely to attract new tenants and encourage existing ones to stay.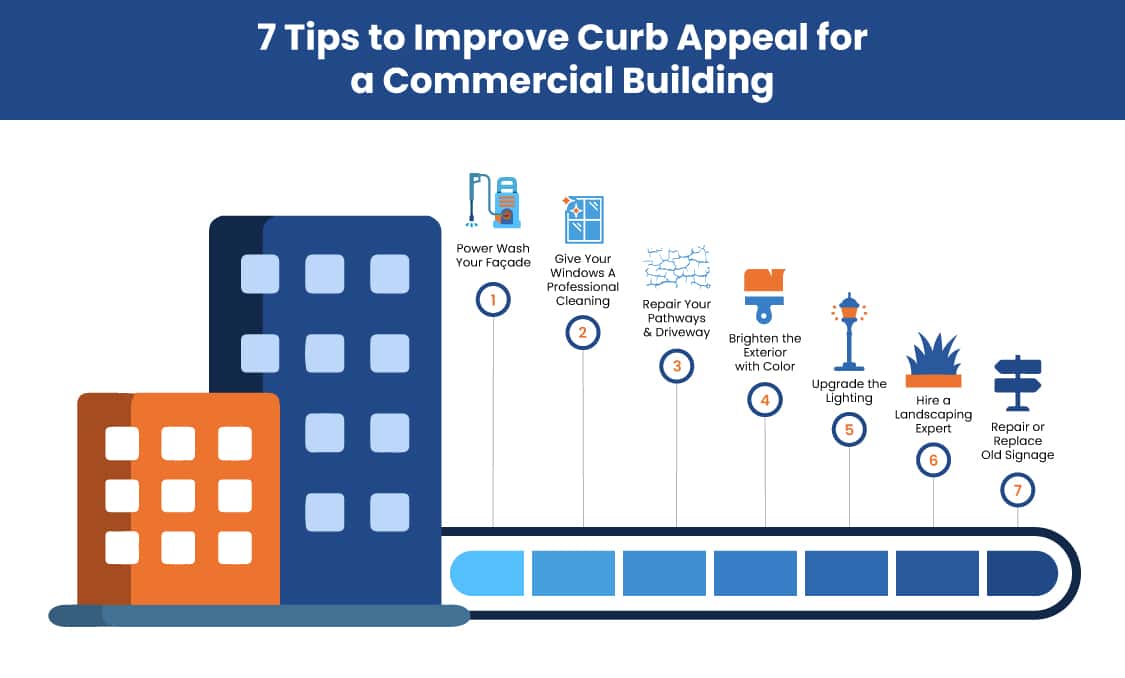 7 Tips To Boost Your Commercial Building's Curb Appeal
Here are seven ways you can improve your commercial building's curb appeal.
1. Give Your Façade a Professional Cleaning
A key part of enhancing your building and outdoor appeal is its façade. It is important to keep it sparkling clean and free of leaves, dirt, and graffiti. All these things distract from what should be an eye-catching initial impression.
If you have a business, give your frontage a professional power washing at least once or twice per year whenever possible. This will not only improve your property's curb appeal, but also keep it looking sharp inside and outside all year long. This is especially important for hospitality and food service businesses whose reputation and success depends heavily on cleanliness.
Another crucial area people look at is windows. Clients will rarely be fascinated by old, dirty, and broken windows. If you own an older building, consider adding in more fairly large windows or repairing existing ones by fixing broken glasses and painting their frames. Regular window cleaning will keep your windows clean and bright.
Additionally, if you live in a cool wet climate like that of Portland, check for any signs of molds and mildew. If they exist, address them by removing any sources of moisture that support their growth and consider adding insulation. PDX ProWash can remedy mold and mildew, in addition to any unsightly spots and smudges.
Owners with properties in cold, wet climates like that of Portland, Oregon can especially benefit from the power washing expertise and professional window washing PDX ProWash to remove plant debris, pollution, graffiti, and mold and mildew.
2. Repair Your Pathways & Driveway
Another aspect that is critical to your commercial building focuses on pathways and walkways leading up to your entryway. If they are chipped, crumbling, stained, or full of weeds, that's a big visual turnoff for any potential buyer or customer.
Having an expert repair your pathways, sidewalks, parking lots, and driveways can help transform your commercial building from being an eyesore to an attractive asset. Even if you are working on a tight budget, start by targeting the most essential parts. This can be one quick fix that can make a significant difference to your property's marketability.
Additionally, remember to regularly clean parking lots, driveways, and other pavement or hardscapes. These are areas that can collect dirt, dust, and grime, and are often the first part of the property visitors experience. Daily sweeping and regular pressure washing will keep the pavement clean and welcoming.
3. Brighten the Exterior
While it's not right to judge a book by its cover, the outside of your commercial building can create a first impression that entices customers or makes them stay away. One thing that matters about your property is its color scheme. If your building has a dull exterior, you can turn things around by painting it with a lighter color.
Don't forget to regularly clean the gutters and power wash the siding to avoid a buildup of dirt and grime, and unpleasant odors that can deter customers and attract vermin, pests, and rodents.
4. Upgrade the Lighting
Lighting plays a major role in how your building looks at night. Create an inviting look by replacing old, dim lighting with well-lit fixtures that highlight your property's best features.
You can also enhance uplighting to feature architectural details like columns and awnings. When you give your building a lighting makeover, it looks more appealing both day and night, which can lead to better sales opportunities.
5. Hire a Landscaping Expert
Keeping flowers, grass, trees and other plants well-groomed and fresh goes a long way toward enhancing your property's appearance. Whether you hire professionals or take care of things yourself, there are a few techniques that can help keep your landscaping in top shape.
Watering your plants consistently helps prevent dry patches from appearing on your greenery and ensures they absorb nutrients efficiently. Additionally, pruning your trees and flowers encourages them to grow steadily.  Lastly, schedule an appointment with an arborist who will give you tips on how to keep your landscape green and healthy year-round.
6. Repair or Replace Old Signage
A faded or dirty sign tells people that your business isn't vital. New signs can increase awareness about your business and boost customer interest in your products or services.
Consider replacing old signs with new ones, or simply cleaning up existing signage with a professional pressure washer. Think of how many eyeballs you'll capture when you give each letter a fresh coat of paint.
When redoing or replacing your signage, go for bright colors that grab attention, for instance, green or red. However, subtle artistic colors can also get people talking about your company.
7. Add Trash & Recycling Bins
Trash and recycling bins are some of those small details that a lot of business owners don't think about. After all, why should you spend time and money on such trivial and inconspicuous things? But if you've ever been into a building that is littered with all kinds of dirt and debris, you'll realize how essential these additions can be.
Recycle bins and trash cans demonstrate how you prioritize keeping the environment clean, and encourage others to do so. However, if you do add bins, ensure they match your business type and aren't out of place, and are regularly maintained.
Improve Your Commercial Building's Curb Appeal & Make It Easy for People to Find You
Who says a commercial building's appearance doesn't matter? An unattractive office or storefront can make potential customers lose interest quickly. At PDX ProWash, we help you improve the curb appeal of your property and inspire confidence in your customers and visitors alike. Contact us today to learn more about how our services can pivot your business experience.